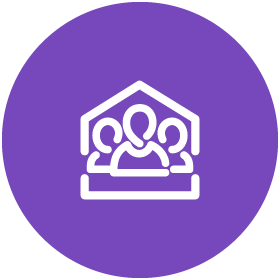 About Ending Poverty
When the CYN began working together in 2007, community partners representing organizations that support and empower children, youth and families came together to begin conversations to address a very significant community problem: 1 in every 5 children born in London was living in poverty.
Through the Child and Youth Network, this group of community partners are committed to taking a collaborative approach to tackle this challenge. While the impact of this work is not always easily visible, partners are confident that if they focus on this deep rooted social issue together, all Londoners could have a future where our children, youth, and families could be supported to reach their full potential.
Approach
The Ending Poverty priority recognizes that poverty is a complicated social problem that requires a multi-faceted approach. Our approach recognizes that there are several stages to provide support to children, youth and families experiencing poverty in our community. We understand that the basic needs of individuals must first be met, followed by a strategic approach to impact system change and breaking the cycle of poverty.

Outcomes
Londoners have an increased and meaningful understanding of poverty and its impact on our community.
More young people will graduate from secondary school (or the equivalent).
Families have more opportunities to become financially sustainable.
There is an increase in the number of opportunities to develop sustainable food solutions.
Families experiencing poverty have enhanced access to basic needs services in their neighbourhoods.
Community leaders have resources to initiate change.
Initiatives
Food Families
Food Families is a dynamic program in which a group of neighbourhood families come together on a regular basis to form a network that supports, encourages, and mentors one another using food – purchasing, growing, sharing, learning, and celebrating – as a galvanizing focus.
Access to Basic Needs Supports in Neighbourhoods
The London Good Food Box is a program which distributes low cost boxes of vegetables and fruit in neighbourhoods across London. For $10 a box, the program is committed to creating socially and economically sustainable neighbourhoods by offering affordable, fresh vegetables and fruits through collective purchasing.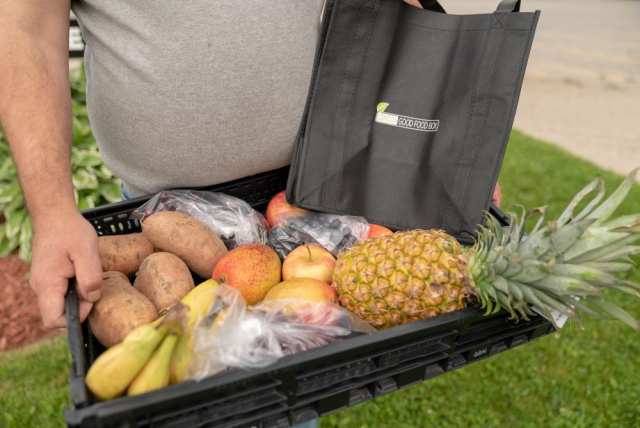 ​
"All About Food" Neighbourhood Food Asset Maps highlight low to no cost food assets accessible to everyone in neighbourhoods across London.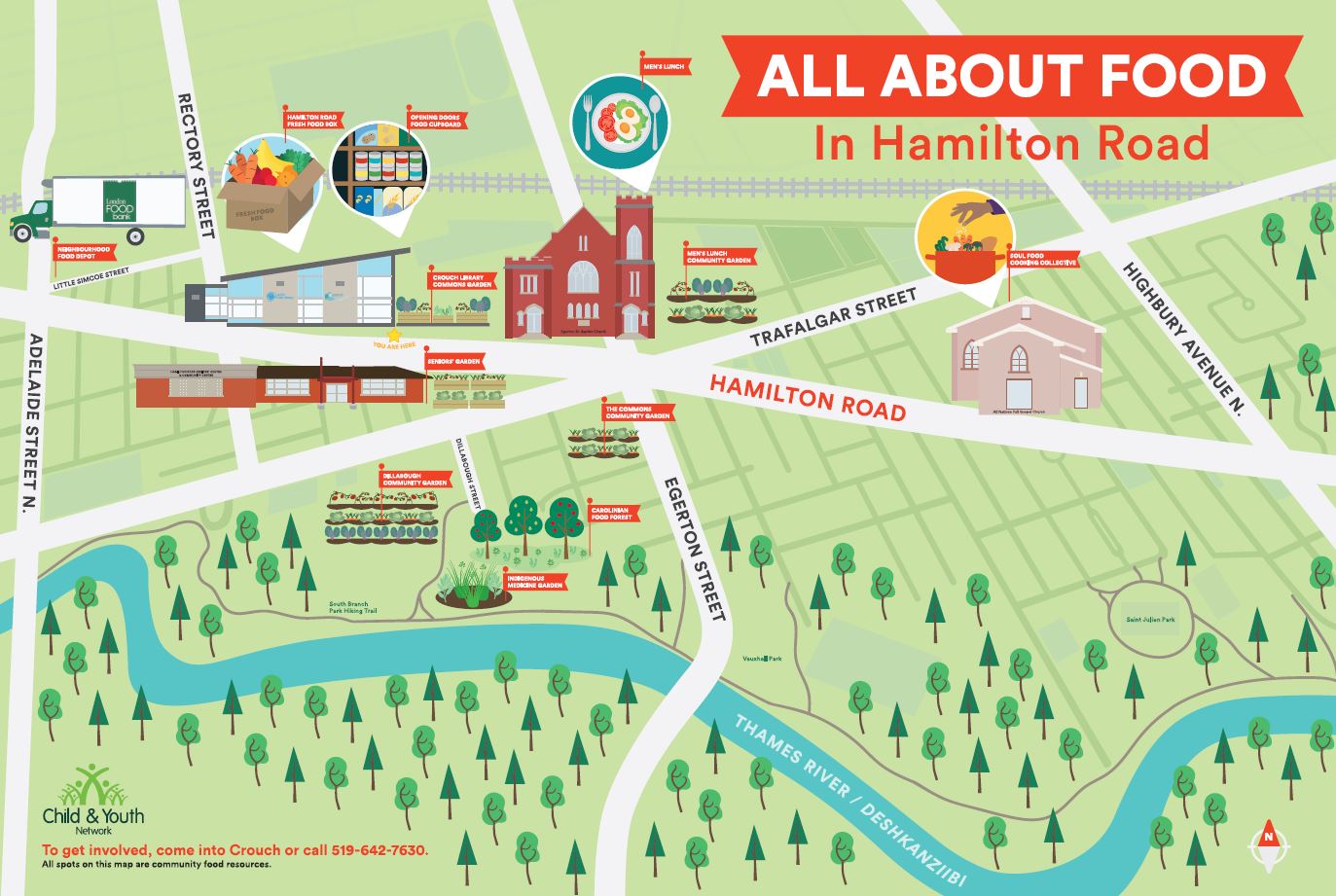 ​
Holiday Toy and Food Collaborative is an initiative working towards coordinating and creating efficiencies with a number of London's community giving programs.
Scale Up the Impact of Harvest Bucks
Harvest Bucks are vouchers used to buy fresh vegetables and fruit at various locations in London. Harvest Bucks may be purchased by individuals or organizations. Sponsored Harvest Bucks are distributed as part of community programs that support healthy eating. Harvest Bucks is a partnership of London's Child and Youth Network, Middlesex-London Health Unit, businesses, and other community organizations.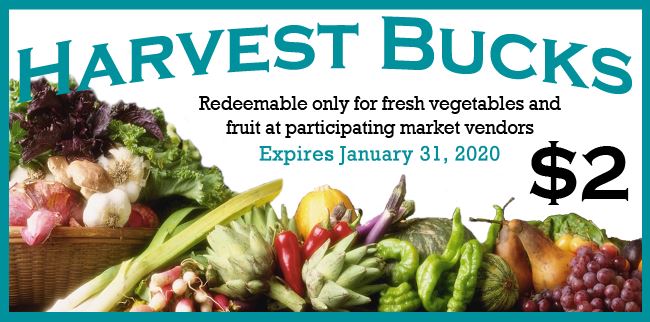 ​
Financial Empowerment
Partners will support the incubation of new community initiatives that provide financial empowerment opportunities to children, youth, and families. In addition, these partners will support the scaling up of proven financial empowerment opportunities that have demonstrated success in London in an effort to support more families living in low income.
Supporting At-Risk Youth
The CYN's Youth Project Design (YPD) initiative explored the challenges young people are facing when it comes to high school graduation. As part of the CYN's goal to support all young people to graduate from secondary school (or the equivalent), at-risk, homeless young people experience unique challenges that this project seeks to address. Over the next 5 years, this initiative will explore possibilities to provide enhanced supports to at-risk young people in London.
Supporting School-aged Newcomers
Through the outcomes of the CYN's Youth Project Design initiative, Ending Poverty priority partners will support the incubation of new initiatives targeting leadership and secondary school graduation rates for newcomer youth.
Two initiatives supported to date include:
A targeted leadership program to support newcomer youth to overcome employment-related barriers and provide training to support young people to pursue leadership and employment opportunities in our community. This program will be developed in partnership with City of London Recreation Services, The Boys and Girls Club, and the YMCA.
A pilot program designed to support school-aged Syrian newcomers to graduate from secondary school in partnership with community partners including the Muslim Resource Centre for Social Support and Integration.
Community-Coordinated Model to Increase High School Graduation Rates
In collaboration with the Literacy priority, this initiative seeks to initiate a proven model, such as Pathways to Education, which provides integrated wraparound supports to young people in London to develop the skills and supports to successfully graduate from secondary school. The locally created model will provide young people with the opportunity to graduate from high school and continue on to post-secondary school or employment by providing young people with academic, financial, social, and individual supports throughout their high school years.
Poverty Over London | ifyouknew.ca
The Poverty Over London campaign is designed as a public awareness and community engagement campaign to generate a conversation about poverty. The campaign focuses on "average" middle income individuals and families. Specifically, it targets people who have the desire and ability to be involved, but have not yet been presented with an opportunity to learn or engage. The premise of the campaign is simple: a city can only be great when it is great for everyone. In order to end poverty and to build a London where everyone can participate, we need broadened awareness and engagement from average Londoners.

​
Community Workshops and Training
This initiative supports and promotes continuous learning, training, and collaboration opportunities for community groups, individuals, and business leaders, among others, in an effort to strengthen relationships and build capacity to end poverty in our local community.
Ending Poverty partners will attend workshops and training that provides tools and resources they need to actively participate in reaching our collective outcomes. In addition, Ending Poverty partners will continue to leverage opportunities for the priority group to collaborate with other organizations working on poverty related issues.
Research and Advocacy
Ending Poverty partners will continue to scale up our research and advocacy role to improve outcomes for children, youth and their families in an effort to end poverty in a generation. Ending Poverty partners will align their research and advocacy efforts with London for All's recommendations. The recommendations in London for All represent the community's direction to advocate for policy change across all levels of government.
Supporting Londoners with Lived Experience to Lead/Participate in Community Decision Making
The purpose of this initiative is to increase the participation of people with lived experience with poverty to act as leaders and decision makers to help shape the community. London for All has identified the following as a strategy under System Change: "Engage people with lived experience in democratic processes and institutions"
Ending Poverty partners will increase the number of opportunities to provide Londoners with lived experience leadership roles in community decision making, including the implementation of London for All.
Vibrant Communities
Vibrant Communities is a program of the Tamarack Institute for Community Engagement. It is a network of over 50 communities who are working to create comprehensive poverty reduction strategies to impact the lives of one million Canadians living in poverty.
The Child and Youth Network's Ending Poverty priority is an active member of this network. Ending Poverty partners will continue to be active members of this cross Canada poverty initiative and support scaling up involvement in key strategic areas that align with our current plan.
Ending Poverty Priority Partners Meetings 
September 21, 2021
Virtual Meeting- Zoom Platform
November 23, 2021
Virtual Meeting-Zoom Platform